Easy Bachat Plan

About Easy Bachat Plan

Life is uncertain and there always exists a fear in our mind that what if I am not around? With an aim to secure your family's future and for your financial protection, we present "Canara HSBC Oriental Bank of Commerce Life Insurance Easy Bachat Plan", a life insurance policy that will help you plan your savings in hassle free manner and provide financial protection to your family at affordable premiums.

Why Buy

1. Guaranteed Yearly Additions accrue to you at the end of Policy Year throughout the premium payment term, provided all due premiums have been paid

2. Guaranteed benefits are paid on maturity, provided all due premiums have been paid.

3. Hassle free purchase process with minimum requirements and no medical tests

4. You have the flexibility to choose a payment term suitable for you - Choice of premium payment terms which can closely align to your premium payment capacity and horizon.

5. You may be entitled for Tax Benefits under Section 80C and Section 10(10D), as per the Income Tax Act, 1961 as amended from time to time. Tax benefits under the policy will be as per the prevailing Income Tax laws and are subject to amendments from time to time. For tax related queries, please contact your independent tax advisor.

What's More:

1. Provides life cover for the entire term while you pay premium only for a limited period.

2. Option to choose from two plan options - Endowment and Money back

Benefits

The benefits under the plan would be as per the plan option chosen.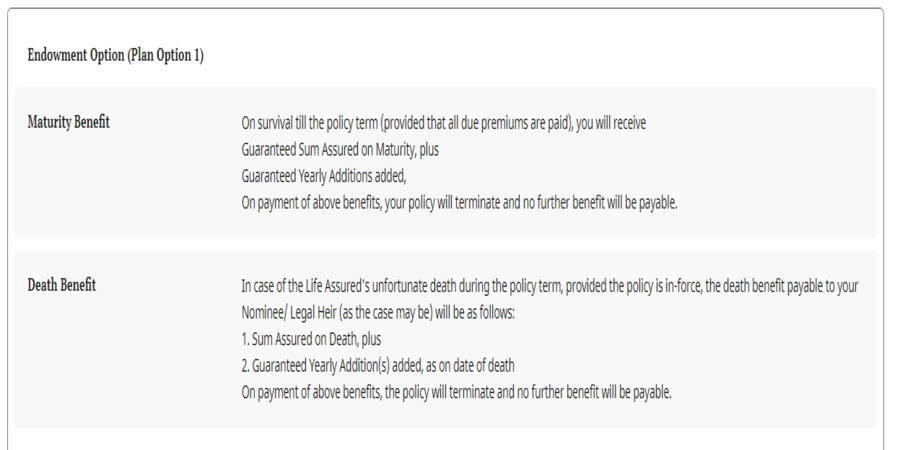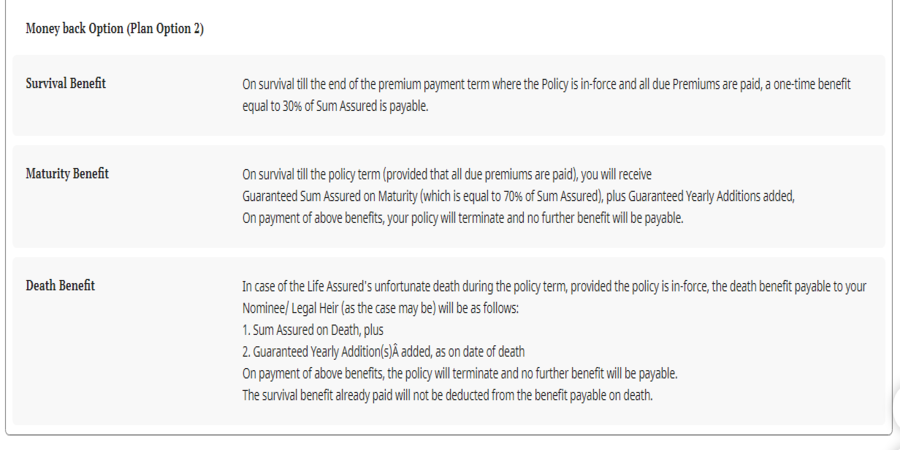 The definitions below will help you better understand the benefits of the plan:

Sum Assured on Death is the amount which is higher of:

1. 11 times the Annualized Premium, or
2. 105% of Total Premiums Paid as on date of death, or
3. Guaranteed Sum Assured on Maturity, or
4. Absolute amount assured to be paid on death, which is also equal to Sum Assured

Guaranteed Sum Assured on Maturity is:

1. For Endowment option: 100% of Sum Assured
2. For Money back option: 70% of Sum Assured

Paid-up Sum Assured is defined as Sum Assured multiplied by (Number of Premiums paid divided by Total number of Premiums payable during the Policy Term).

Paid-up Sum Assured on Death is defined as Sum Assured on Death multiplied by (Number of Premiums paid divided by Total number of Premiums payable during the Policy Term).

Paid-up Sum Assured on Maturity is defined as Guaranteed Sum Assured on Maturity multiplied by (Number of Premiums paid divided by Total number of Premiums payable during the Policy Term).

Annualized Premium is the premium payable in a year chosen by you, excluding the taxes, rider premiums and loadings for modal premiums, if any

How it works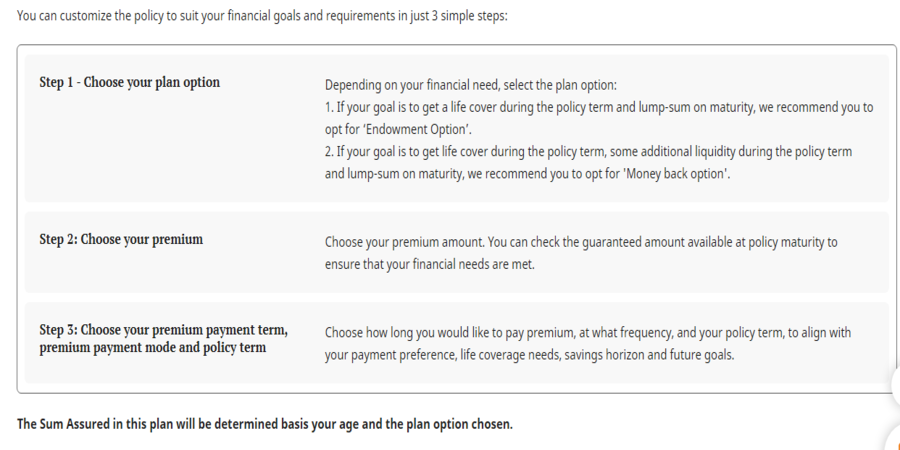 Age Criteria

1. Entry Age
Minimum - 18 years

Maximum - 55 years

2. Maturity Age

Minimum - 28 years

Maximum - 65 years

Premium Payment Term and Policy Term

1. 5 pay with 10 years policy term
2. 7 pay with 15 years policy term
3. 10 pay with 20 years policy term

Sum Assured and Premium

Minimum- Rs. 20,148

Maximum- Rs. 10 lacs

The minimum instalment premium available under the plan are as follows:




Maximum Annualized Premium: Rs. 90,000 per annum

Minimum and Maximum Premiums are exclusive of Goods and Services Tax & applicable cess (es)/levy, if any

Premium Payment Mode and Modal Factors