Car Insurance

Why Choose Chola MS Car Insurance?

Your car is your reason for joy, happiness and immense pride. It gives you independence, freedom and the ease to move around. While buying a car is always a great emotional moment for the entire family, it is also one of the most important purchase decisions you ever made.

Once you buy a car it becomes crucial to protect your vehicle against risks and uncertainties. The moment your car rolls down the road, it is prone to many unforeseen hazards such as accidents, fire, theft and loss of vehicle, resulting in sudden and huge expenses that may drain out your hard earned money.

A good car insurance policy makes sure your vehicle stays safe and secure against any unfortunate event, and your expenses are completely covered in the wake of any such incidents. Get instant car insurance quotes along with the best-suited add-ons to strengthen your car insurance policy cover by Chola MS now!

6 Reasons Why You Should Choose Car Insurance

1. customer support

2. Hassle free claims Process

3. 7100+ cashless garages

4. Dual coverage of Third Party risks and Own damage risks Car Insurance

5. Dual coverage of Third Party risks

6. Availability of Live Video streaming for instant claim

Key Features and Benefits of Chola MS Car Insurance

Here's a look at the wide range of benefits you stand to gain when you choose car insurance policy by Chola MS:





Types of Car Insurance

Chola MS offers the following types of car insurance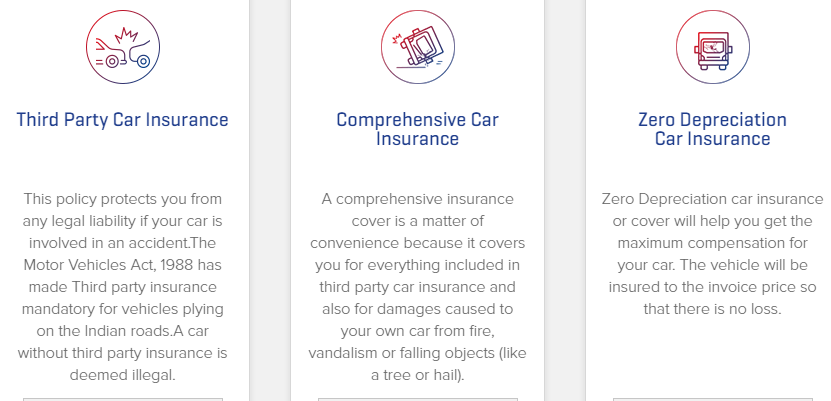 What Does Chola MS Car Insurance Policy Covers?

Chola MS Car Insurance Policy protects your vehicle against:

Third Party Personal Liability with unlimited coverage. The amount awarded by the court as your liability to a Third Party due to accidental death or injuries caused by your vehicle will be compensated for under the vehicle insurance policy.

Third Party Property Damage with a maximum cover of INR 7,50,000, (Rupees Seven Lakhs Fifty Thousand Only), in the case of private cars.

Own Damage Cover protects against the loss due to:

Fire, lightning, self-ignition or explosion

Burglary, theft or housebreaking

Strike or riot

Earthquake (shock, damage and fire)

Flood, inundation, storm, tempest, typhoon, hurricane, cyclone and
hailstorm

Accidental external means

Malicious acts

Terrorist activity

During transit by rail, road, inland waterway, air or lift

Landslide and rockslide

Personal Accident Cover with compensation for owner cum driver.

LL to Paid Driver.

PA cover for named and unnamed passengers, including spouse, children, parents, etc.

Legal liability towards employees arising out of an accident involving the insured vehicle

Other Car Insurance Covers available are

Discounts include No Claim Bonus, Automobile Association Membership
Discount, Discount for Anti-Theft Devices approved by Automobile
Research Association of India (ARAI) that are fitted in the vehicle.

Add-on Covers for Private Vehicles include a wide range of additional covers that you can choose from for enhanced protection of your vehicle.

Fixed Daily Allowance of INR 500 or INR 1,000 per day to meet the cost of hiring a car (for a maximum of five days per policy period) if the insured vehicle is involved in an accident and under repair at a garage.

Reinstatement Value to ensure maximum claim benefit - Full Car Investment Security with compensation based on the vehicle invoice value* and zero depreciation charges on repaired parts.(*Excluding vehicle registration charges and road tax)

Waiver of Reduction in Depreciation for Partial Losses, such as replaced vehicle parts, depending on the age of the vehicle.

Cover for personal belongings and clothing destroyed or damaged in a fire or an accident (the items must have been inside the locked car during the mishap).

The maximum reimbursement during a policy period is INR 10,000.

Reimbursement of expenses towards obtaining a duplicate ignition key up to a maximum of INR 1,000, following the loss of the original ignition key.

Compensation for obtaining duplicate license (fixed sum of INR 500) in the event that the original driving license for a light motor vehicle is lost.

Cover for road tax and registration charges.

Chola Assistance for roadside emergencies support is available for spot assistance, including fuel delivery and battery top-up, as well as car breakdown assistance including fixing a flat tyre or on-site repair.

What Does Chola MS Car Insurance Policy Not Cover?

Vehicle insurance policy for private vehicles by Chola MS does not cover the following:

Accidental damage or loss due to willful negligence

Accidental loss or damage if you are driving under the influence of intoxicating liquor or drug

Loss or liability while the vehicle is being used outside the scope of limitations of use and/or being driven by a person not duly licensed

Consequential loss, depreciation, wear and tear, mechanical and electrical breakdown/failure of breakages

Loss due to nuclear weapons or radioactivity

Loss due to war and related activities For more information check out our car insurance policy today!

Car Insurance Sum Insured Value?

The Insured's Declared Value (IDV) of the vehicle will be deemed to be the 'Sum Insured,' fixed at the commencement of each policy period for the insured vehicle. The IDV of the vehicle is fixed on the basis of the manufacturer's listed selling price for the specific brand and model of the insured vehicle at the time of commencement of the insurance or renewal, and adjusted for depreciation. The table below lists the schedule of age-wise depreciation, for fixing IDV.




Car Insurance No Claim Bonus

No Claim Bonus (NCB) entitlement for Motor Policies





No Claim Bonus (NCB) can be earned only in the Own Damage section of Motor Policies.

NCB is allowed for all classes of vehicles other than Motor Trade Policies.

NCB is to be allowed only when the vehicle has been insured continuously for a period of twelve (12) months without any break.

NCB can be allowed only when a policy is renewed within 89 days of the expiry of previous policy.

No Claim Bonus, wherever applicable, will be as per the following table.

The entitlement of NCB shall follow the fortune of the original insured and not the vehicle or the policy.

In the event of transfer/sale of vehicle and subsequent transfer of policy, the NCB amount will be recovered from the buyer of the vehicle before affecting the transfer of policy. (Unless transferee is entitled to a lesser or higher percentage of NCB than that existing in the policy)

If the transferee is entitled to a lesser or higher percentage of NCB than that existing in the policy, then evidence of the same must be submitted at
the time of transfer of the policy by way of letter from previous insurer.

In case of death of the insured who is an individual, on his death the custody and use of the vehicle pass to his spouse and/or children and/or parents, and the NCB entitlement of the original insured will pass on to such person/s to whom the custody and use of the vehicle pass.

The NCB earned on a vehicle owned by an institution during the period when it was allotted to and exclusively operated by an employee will be passed on to the employee if the ownership of the vehicle is transferred in the name of the employee based on submission of suitable letter from the employer.

In the event of the insured, transferring his insurance from another insurer to Chola MS, Chola MS will allow the same rate of NCB which the insured would have received from the previous insurer.

Evidence of the insured's NCB entitlement either in the form of a renewal notice or a letter confirming the NCB entitlement from the previous insurer must be submitted for this purpose.

Insured's declaration on the entitlement of NCB will be accepted and Chola MS will write to previous insured to confirm the entitlement. If the information is found incorrect or false in any aspect, the Policy shall be void ab initio and no benefit shall be payable by us.

If an insured vehicle is sold and not replaced immediately, NCB will be granted on a subsequent insurance, provided such fresh insurance is effected within 3 (three) years from the expiry of the previous insurance. The rate of NCB applicable to the fresh policy shall be that earned at the expiry of the last twelve (12) months period of insurance.

On production of evidence of having earned NCB abroad, an insured will be granted NCB on a new policy with Chola MS as per entitlement earned abroad.

Sunset Clause: If at the renewal falling due any time between 1st July 2002 and 30th June 2003, an insured becomes entitled to an NCB of 55% or 65% in terms of the Tariff prevailing prior to 1st July 2002, the entitlement of such higher percentage of NCB will remain protected for all subsequent renewals till a claim arises under the policy, in which case the NCB will revert to at the next renewal.

Benefits of Buying/Renewing Car Insurance Online

Car Insurance policies are valid for a limited period and need to be renewed before their expiry date. Car insurance renewal on time is imperative. At the time of renewal, you can opt for car insurance online which is a lot quicker and affordable option.

It provides third party coverage

With online car insurance renewal of your comprehensive cover, your car will continue to be covered against unforeseen natural calamities and man-made tragedies.

You have the option to switch Insurer and Cover

While renewing car insurance online without raising a claim during the policy period, you become eligible for a No Claim Bonus.

During your policy renewal, you can opt for riders/add-ons namely zero-depreciation cover, etc.

More importantly, when you renew your policy, you get a sense of security
If there is a significant gap between your policy renewals, your proposal to buy a policy might be rejected.

Get the renewal of your car insurance done online before its expiry and ensure your vehicle is insured.

A Good Car Insurance Policy Means:

The damage done to a third party is completely covered

help and assistance in case of an accident or a sudden breakdown

Easy, smooth and hassle-free claim settlement process

A wide network of cashless garages for easy claims

Instant Online buying and renewal process

Chola MS Value Added Car Insurance Services

The Insured can call the Emergency Helpline of the Facilitator in case of accident, or electrical or mechanical breakdown of the Insured Vehicle.

Insured to furnish the following details to the facilitator at the time of immobilization of Vehicle:

Name

Motor Insurance Policy Number and/or cover note

Vehicle Registration Number

Vehicle Make and Model

Breakdown Location

Policy Start Date and End Date

An indication as to the nature of the problem and service requested
Facilitator will despatch the Services after checking Supplier Network at the place of breakdown.

Facilitator will send service professional to the Insured's location to render necessary services.

Facilitator will check with the Insured regarding arrival of the service and if the service has not arrived, will check with the supplier for an alternate arrangement.

Services will be provided basis on all the days in a year.

The services are available Pan-India, excluding North Eastern States, Jammu and Kashmir and Islands

Customer is covered from the moment customer starts or tries to start the vehicle.

There are 25 Services available for a Private Car. Some of these are briefed below:

The decision to buy a car is one of the most important purchase decisions that one can make. A car, however, also requires regular maintenance and must be protected from various risks and uncertainties, which can be potentially very expensive. Finding the right car insurance can help you manage these risks effectively, thereby helping you keep your car safe and secure in case of any unfortunate incidents.

What you should consider before choosing car insurance

Customer support provided

Car insurance claim process

Coverage provided

Simple, online buying and renewal process

Chola MS endeavours to make the car insurance claim process smooth and hassle-free through its wide network of garages and extensive insurance coverage. We provide three main types of car insurance:

Third-party Car Insurance for legal protection during accidents, which has been made mandatory by the government.

Comprehensive Car Insurance that covers multiple risks such as damages to car, theft of car, legal liability towards third-party and personal accident cover.

Zero Depreciation Car Insurance which ensures that you receive the entire cost from the insurer during the car insurance claim process.

Getting the right car insurance is crucial to the safety and security of your beloved vehicle. A strong comprehensive cover can help protect your vehicle against liabilities towards third-party damages & losses and even provide you with own damage cover benefits. Since insurance is an important investment, it is necessary to conduct a proper study of your options with certain factors in mind. These factors are:

A simple buying process

A customizable IDV for your plan

Additional service benefits

Hassle-free claim process

A strong customer support

Get all these benefits and more when you purchase car insurance with Chola MS.

Having a car insurance in place provides you with a large number of benefits, especially in terms of dealing with financial burdens. Car insurance benefits are as follows:

Protects you from third party liabilities towards bodily injuries

Covers for expenses owed to a third-party for property damages due to an accident

Protection for your vehicle against fire, explosion, theft, burglary, man made disasters such as strikes, riots, etc. and natural disasters such as floods, earthquakes, etc.

Comprehensive car insurance covers give you the benefit of additional covers to increase protection with a payment of extra premium.

A comprehensive insurance cover for your vehicle is ideal as it gives you more protection and coverage as compared to the standard covers. Having car insurance in place is also mandatory, as per the Motor Vehicles Act 2019.

Car insurance renewals are also very simple and quick with Chola MS. You can renew all your vehicle's insurance plans online and save yourself the effort of having to leave your home, reduce physical paperwork with online documents and get the whole thing done in no time!

Get car insurance with Chola MS and stay worry-free and insured on the road.

The purchase of a car is a huge investment and it means a big deal for most families. Cars go on to become a very important part of the family for many. So it becomes important to look after this fellow member of the family similar to any other member of the family and that is where car insurance comes into play.

Make sure you get the right car insurance in place to give you and your car maximum protection when on the road. Road accidents and mishaps are highly unpredictable, so it's always best to have a layer of security for your vehicle in case of an unfortunate situation. With a strong and comprehensive car insurance in place you can deal with the financial burdens that may arise in the event of an accident.

It is also mandatory by law to have car insurance to be able to function on Indian roads, as per The Motor Vehicles Act 2019. Getting a comprehensive cover not only provides you with the mandatory coverage of third-party liability policy but also an own damage cover that helps cover the expenses for damages and losses incurred for your vehicle due to an accident.

Buying car insurance with Chola MS comes with various benefits such as:

Customer support

Hassle-free and quick claim settlement

Access to 7100+ cashless garages, across the country

Dual coverage of third party liability and own damage cover

Dual coverage of third-party risks

Availability of live video streaming for instant claim

With comprehensive car insurance policies you also get the benefit of add-on covers. These are additional covers one can apply to their policy with additional premium to increase the protection of their vehicle from more risks. No-claim bonuses are also available with a comprehensive car insurance policy.

Car insurance is a type of motor vehicle insurance policy that helps protect you and your car from various risks or accidents while on the road, theft and natural disasters. In the event of an accident or road mishap, the financial burden can be very high. Having a strong car insurance policy in place helps take care of the financial aspect of such unfortunate situations. You can stay financially secure and deal with losses or damages that arise from unforeseen circumstances.

A third-party liability cover is also mandatory by the law for all vehicles on the Indian road, as per the Motor Vehicle Act 2019. With a comprehensive motor insurance plan, you meet the requirement of having third-party liability cover and also have the protection of own-damage cover. Essentially, the importance of car insurance is being covered for:

Expenses for third party property damage

Amount to be paid for any third-party injuries

Protects your car from theft, burglary, fire, explosion, manmade and natural disasters

There are various factors that help calculate car insurance for any individual. A combination of these factors are taken into consideration by the insurance provider before fixing the rates. Some of these factors are:

Make and model of car

Age of the insured's car

Driving history of the individual concerned

Vehicle's safety rating

Insured's location of residence

Insured's profession

Make sure to keep these factors in mind and maintain them the right way to ensure you get the best price on your car insurance. You can significantly lower your insurance expenses with a clean record of these factors.