Bima Bachat

Benefits
What is Bima Bachat?
LIC's Bima Bachat is a money-back policy which offers financial security and assurance to the policy holder and his family. Bima Bachat requires the policy holder to pay only one premium. The amount paid for the premium depends on the duration of the policy taken and life insurance is available till the date of maturity.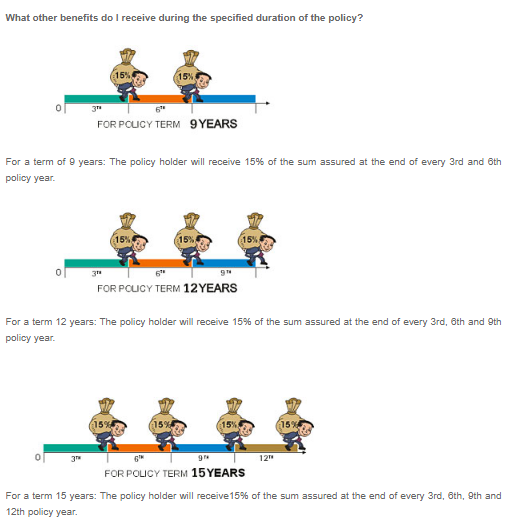 What additional benefits do I get upon maturity?
If the policy holder outlives the duration of the policy, at the time of maturity, a single premium payment (excluding extra premium) is made along with loyalty additions, if any.

How much insurance do I get?
The policy holder is insured for an amount equal to the sum assured.

What about the installment received already?
The insurance cover is irrespective of the installments received.

When am I eligible for the guaranteed surrender value?
The guaranteed surrender value is available only after completion of at least one policy year. This value is equal to 90 % of the single premium paid (excluding extra premium).

What other benefits does this insurance cover offer?
Bima Bachat is the only money-back policy that offers a loan facility. The rate of interest for this will be determined from time to time by the corporation. Presently the rate of interest is 9% p.a. payable half-yearly.
It also offers other benefits like the 15 day cooling off period, grace period and revival.

Who is eligible for the policy? Are there other conditions or restrictions?
The following are the requirements that one needs to be aware of before applying for this policy:

1. The person applying for the policy should have completed 15 years and should not be older than 66 years.
2. The policy will mature when the person is 75 years old.
3. There is a choice of three terms to choose from (9, 12 and 15 years) for the policy depending on the age and requirement of the applicant.
4. The minimum sum that needs to be assured is Rs 20,000/- and there is no limit on the amount that can be assured.
5. It is important to note that the sum assured should be in multiples of Rs 5000/- only.
6. The policy requires the holder to pay a single premium.