Overview
Aviva Dhan Samruddhi is a traditional life insurance plan that gives guaranteed cash back every 5 years in addition to guaranteed maturity benefit, to meet your short and long term needs.

Guaranteed returns: Your policy earns a Guaranteed Addition of 7% per annum to 9% per annum of the Annualized Premium, depending upon the policy term chosen by you, till the end of the policy term which is payable at maturity.

Liquidity: Your policy pays back 125% of the Annualized Premium as Survival Benefit every 5 years (except at maturity)

Guaranteed Maturity Benefit: At maturity, you get the Sum Assured plus accrued Guaranteed Additions minus Survival Benefits already paid.

Rebate for high Sum Assured: Rebate on basic premium is allowed if your Sum Assured is Rs. 5 Lacs or higher.

Specifications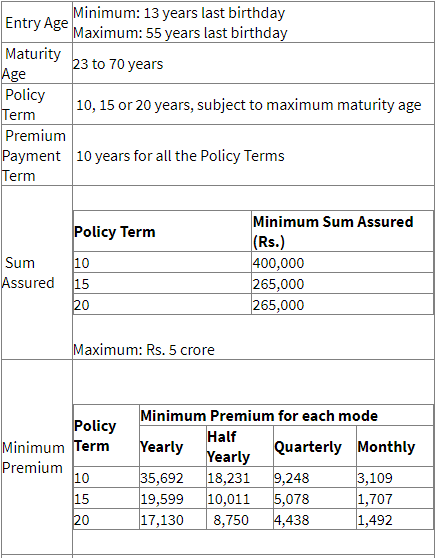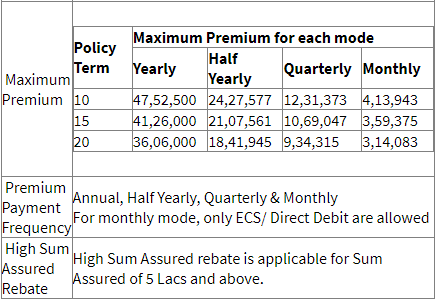 Taxes including but not limited to Goods & Services Tax, Cesses as applicable shall also be levied as notified by the Government from time to time. Tax laws are subject to change.

Benefits That I Will Receive Death Benefit: In the unfortunate event of death of the Life Insured within the Policy Term, the following payment would be made to the Nominee, provided all due premiums till date of death have been paid:

The amount payable on death shall be highest of the following amounts:
a) 10 times of annualized premium, or
b) 105% of the Total Premiums paid as on date of death or
c) sum assured of the policy plus the Guaranteed Additions accrued till the date of death without deduction of any survival benefits already paid.

Guaranteed Additions: You will be eligible for Guaranteed Additions at the end of each year depending on the chosen Policy Term if all due premiums are paid. The accrued Guaranteed Additions will be paid along with the Maturity Benefit, or on earlier death of the Life Insured.





One Year Premium shall be the premium amount payable in a year chosen by the policyholder, excluding the taxes, rider premiums and underwriting extra premiums, if any.

Survival Benefit: You get guaranteed Survival Benefit equal to 125% of the Annualized Premium at the end of every 5th policy year except at maturity, if all due premiums till the due date of Survival Benefit payments have been paid.

Maturity Benefit: If you pay all due premiums, you get a guaranteed Maturity Benefit equal to the Sum Assured plus accrued Guaranteed Additions till maturity, less Survival Benefits already paid.

Tax Benefits: Tax benefits will be applicable as per section 80C and 10(10D) of Insurance Act 1961. Tax laws are subject to change.

Easy Steps to Plan

1. Choose the basic Sum Assured depending upon corpus you wish to build to meet your financial goals and the time when you need it.

2. Calculate the premium as per chosen sum assured and Policy Term basis your age. Also chose the Premium Payment Frequency based on your convenience.